Valve Actuators – Hydraulic Actuators
HP3000 Series
Hydraulic Cylinders for Valve Actuation
1½" – 14″ Bore
The HP3000 series hydraulic cylinders are designed to operate in the most demanding conditions at nominal pressures of 3,000 psi. The cylinders are available in bore sizes ranging from 1 1/2 to 14 in 18 different N.F.P.A. mountings. They are perfectly interchangeable with any other cylinders in the same product category. Consult factory for larger bores. The materials used to manufacture RDC Contrôle Ltée cylinders are selected from the best quality available. The HP3000 series components are manufactured with the latest sophisticated precision equipment. Each cylinder is assembled and individually tested under strict quality conditions.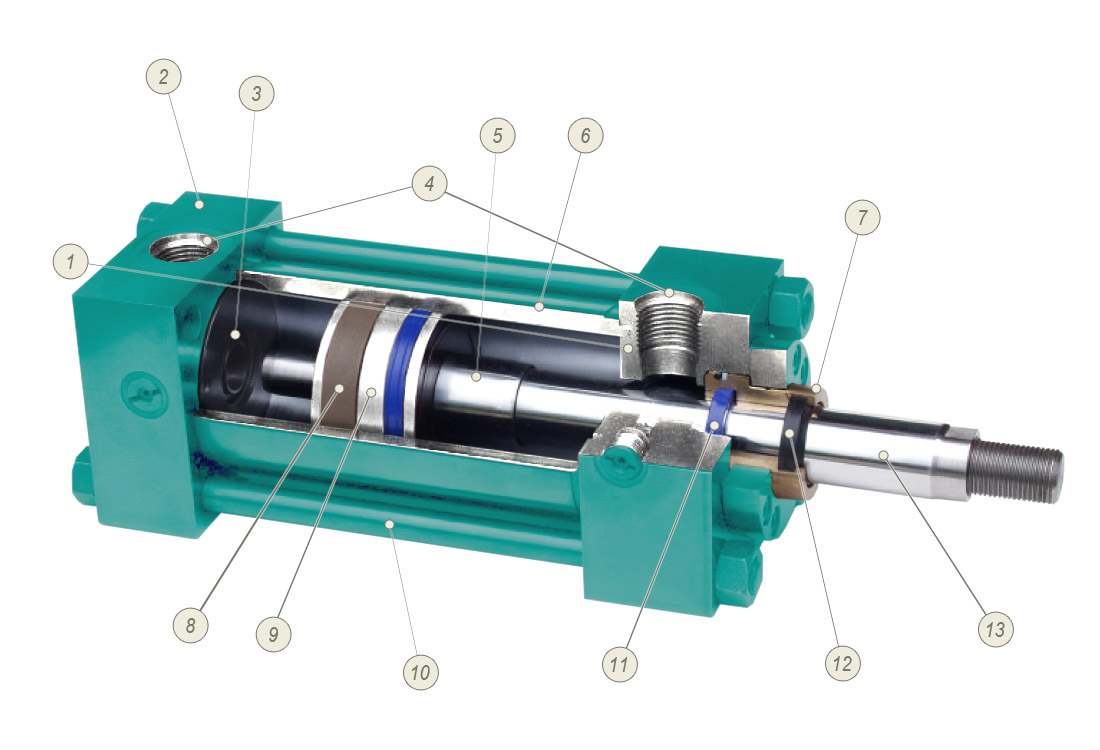 | | |
| --- | --- |
| | Barrel Seal |
| | A teflon seal provides a extrusion-proof and positive leak tight seal. Also available in fluorocarbon (viton) for higher temperatures. |
| | |
| --- | --- |
| | Head and Cap |
| | Numerically controlled machined from hot rolled steel plates ASTM A36 or better. |



Cushion Seals



(Optional)
Provides deceleration and helps eliminate shock.




Ports

SAE standard, NPT and Oversized ports available.









Cushion Plunger



(Optional)
Made from mild steel, the plunger is free floating for proper centering and consistent alignment. A stepped sleeve cushion design provides superior cycling rates and increased performance in reducing hydraulic shock.

| | |
| --- | --- |
| | Cylinder Barrel |
| | Extra heavy wall steel tubing with a highly polished interior, honed to a micro finish surface, provides low friction and long seal life. |
| | |
| --- | --- |
| | Gland Bushing |
| | Made of SAE 660 bronze, the gland bushing is designed to provide maximum support to the piston rod, protect rod against side load and resist wear. The gland is easily removed and permits seal and wiper replacement without dismantling the cylinder tie rods in most of our N.F.P.A. mountings. |
| | |
| --- | --- |
| | Piston Seal |
| | It consists of a bi-directional seal and wear band filled with particles of glass and bronze for smoother piston operation and high lateral forces. It eliminates metal-to-metal contact and prevents the possibility of scoring expensive barrel tubing. The pistons perfect seal minimizes stroke friction and prevents piston by-pass. Consult factory for other sealing arrangement per your application. |
| | |
| --- | --- |
| | Piston |
| | Standard extra heavy duty cast iron piston designed to withstand high lateral forces. The one piece design provides maximum strength, reliability and extended piston life. |
| | |
| --- | --- |
| | Tie Rod and Nuts |
| | High strength, made from 100,000 PSI minimum yield steel along with Grade 8 zinc plated steel nuts for corrosion resistance. |
| | |
| --- | --- |
| | Seals and Packings |
| | The sealing of the piston rod is assured by a double urethane lip-seal. A third lip-seal is added for rod stability while reducing cylinder stroke friction. These standard seals can resist temperatures ranging from 34°C to 80°C (-30°F to 180°F). Fluorocarbon (viton) seals and packings are available for temperatures up to 250°C (450°F). |
| | |
| --- | --- |
| | Rod Wiper |
| | Prevents dust and other contaminants from entering into the cylinder as well as a back-up rod seal. Standard material is polyurethane. It can be replaced by fluorocarbon (viton) for higher temperature applications. A heavy duty urethane rod scraper or metalic scraper is also available for severe applications. |
| | |
| --- | --- |
| | Piston Rod |
| | High yield strength alloy steel rod, hard chrome-plated, and polished to 10 RMS finish. Solidly screwed into the piston and firmly retained by an anaerobic adhesive. The O-ring assures a leak tight seal between the piston and the piston rod. Stainless steel 316 and 17-4 PH chrome plated rods also available. |