HL Series
Medium Pressure Hydraulic Cylinder
1½" – 14″ Bore
The materials used to manufacture RDC CONTROL LTD cylinders are selected from the best quality available. The HL Series components are manufactured with the latest sophisticated precision equipment. Each cylinder is assembled and individually tested under strict quality conditions.
Integrated Cushion Seal Ring
The cylinder cushion seals are offered as optional equipment. They consist of a double action floating cushion ring which eliminates any potential alignment problems and the need of a mechanical check valve that would require constant maintenance.
This double action cushion ring diverts the oil through the adjustable orifice only for smoother end of stroke cushioning.
On the return stroke, the cushion seal allows oil to pass behind the piston thus obtaining a rapid breakaway and increase cycle rate.
The cushion adjustment screws supplied by RDC Contrôle Ltée are specially designed with extra fine threads (UNEF) to obtain a perfect adjustment. For added security, the screws will leak fluid before being accidentally ejected if they are attempted to be removed under pressure. These screws are normally installed on side n°2 of the cylinder except for trunnion mountings (T1, T2 and T4) on which they can be found on side n°3.
Standard Piston Wear Strip
All standard pistons on HL Series cylinders are equipped with a bronze and glass impregnated teflon wear band. In addition to giving the piston a more secure fit, the self-lubricating feature protects the interior surface and adds to the life of the cylinder.
Cartridge Type Gland bushing
The gland bushing of the HL Series cylinders is designed for easy removal, thus allowing easy seal maintenance without dismantling the entire cylinder. For piston rod diameters less than or equal to 1 3/4, a simple wrench may be used. For piston rod diameters greater than 1 3/4, the non-threaded gland bushing is held in place with a removable bolted-on plate.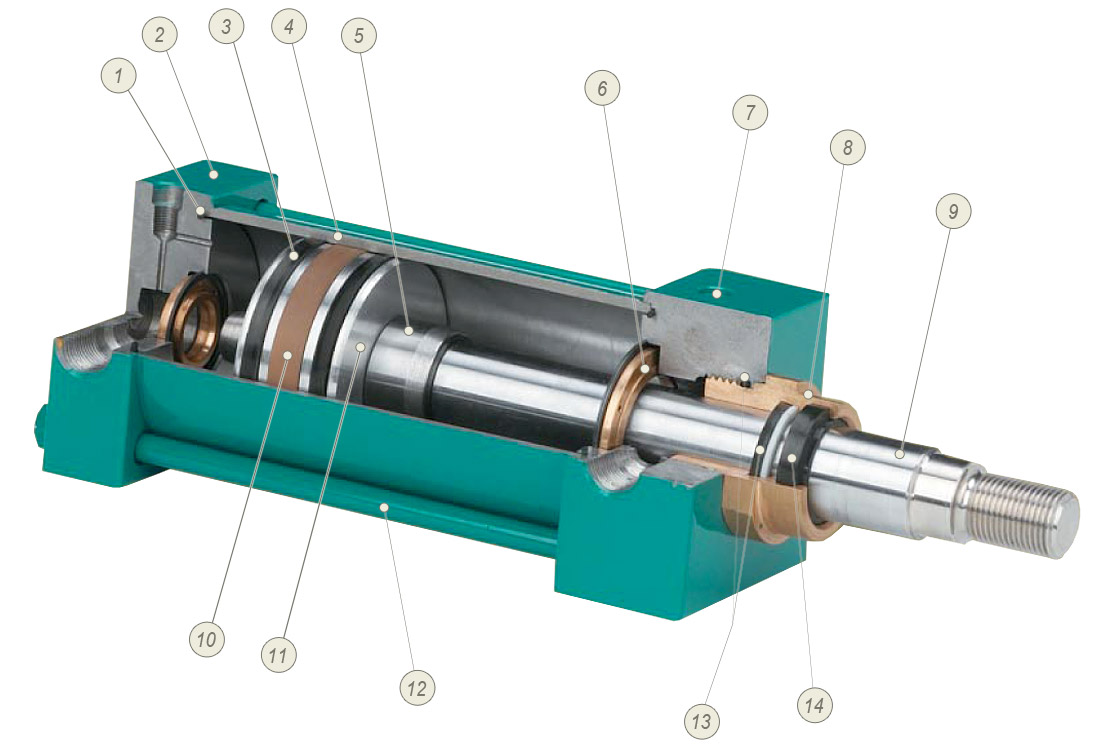 | | |
| --- | --- |
| | Barrel Seal |
| | A nitrile O-ring provides a positive leak tight seal. Also available in fluorocarbon (viton) for higher temperatures. |
| | |
| --- | --- |
| | Head and Cap |
| | Numerically controlled machined from hot rolled steel plates ASTM A36 or better. |
| | |
| --- | --- |
| | Piston Seals |
| | Consists of 2 U CUP double lip seals made of urethane with a fitted nitrile seal to energize during low pressure operations. The piston seals are available in fluorocarbon (viton) for high temperature applications. |
| | |
| --- | --- |
| | Cylinder Barrel |
| | Heavy wall steel tubing with a polished chromed interior provides low friction and long seal life. |



Cushion Plunger



(Optional)
Made from mild steel, the plunger is free floating for proper centering and consistent alignment.




Cushion Seals



(Optional)
Bronze floating ring provides deceleration and helps eliminate shock. It also serves as a check valve for rapid piston breakaway, thus increasing cycle rates.




Cushion Adjustment Screw



(Optional)
Manufactured from stainless steel #303, complete with extra fine threads (to obtain precise adjustment)

| | |
| --- | --- |
| | Gland Bushing |
| | Cartridge type made from SAE 660 bronze. Easily removable gland permits seal and wiper replacement without dismantling the cylinder tie rods. No special tool required. |
| | |
| --- | --- |
| | Piston Rod |
| | High carbon content SAE 1045 steel rod, polished and chrome hardened. Stainless steel 316 chrome plated and 17-4 PH rods also available. |
| | |
| --- | --- |
| | Piston Wear Strip |
| | It consists of a teflon tape filled with particles of glass and bronze for smoother piston operation. It eliminates metal-to-metal contact and prevents the possibility of scoring expensive barrel tubing. |



Piston




Bore size from 3 1/4 to 8

:
Numerically controlled machined from high strength aluminum barstock (6061-T6).


Bore size from 10 to 14

:
Made from high quality steel ASTM A36 or better.

| | |
| --- | --- |
| | Tie Rods and Nuts |
| | High strength steel barstock along with Grade 5 zinc plated steel nuts for corrosion resistance. |
| | |
| --- | --- |
| | Seals and Packings |
| | U CUP and O-ring are energized by a teflon ring assuring drip tight operation and reliability. A high durometer nitrile material is offered as standard equipment for temperatures ranging from 34°C to 80°C (-30°F to 180°F). Fluorocarbon (viton) seals and packings are available for temperatures up to 250°C (450°F). |
| | |
| --- | --- |
| | Rod Wiper |
| | Prevents dust and other contaminants from entering into the cylinder. Standard material is polyurethane. It can be replaced by fluorocarbon (viton) for higher temperature applications. A metal rod scraper is also available for severe applications. |